PRONIL specializes in manufacturing high-performance Acrylic Swellable Bars, Bentonite Hydrophilic Waterstops and Expansion Joint Tapes for construction for two decades. PRONIL India's office is in Chennai. We are determined to build and deliver world-class products and services at a level that exceeds customer expectations. Besides, our customer service team will provide advice on each of our customer's specific requirements. Working in partnership with our customers, we take care of their demanding requirements for competitive pricing, high quality, on-time delivery and attention to long-term strategic cooperation. We also arrange all freight, shipping and insurance as necessary, all over the world.
Our product range comprises of new generation high-performance Acrylic Swellable Bars, Bentonite and Expansion Joint tapes for the effective sealing, High-performance sealing system, Waterproofing flexible Joint sealing tape with non-woven or polyester polymer fabric, product range can be used in multiple applications such as Expansion Joints, Bathrooms, Balcony, Sunken Slab, Kitchen, Terrace, any wet rooms Joints, Wall Joint and Tunnels etc…
Products
PRONIL ACR - Hydrophilic Water Stoppers, Plugs and Rings
Pronil ACR is a BBA Certified Product of new generation high-performance acrylic polymer-based expanding tape. It expands up to 900% when in contact with water. In a totally dry state, the product will shrink to its original installation dimension and re-expand on wetting. Pronil ACR is used in concrete construction for the sealing of construction joints including wall to base connections, pipe entry systems, sealing of openings and interface sections between existing and new concrete. It is easily stored in its original moisture-proof wrap in cool, dry conditions away from sunlight.
PRONIL ACR can be used on a variety of irregular substrates. It forms an impermeable barrier against water in concrete. The product complies with deformed surfaces and joints. It saves time and labor and is easy to apply. No hardening time and No welding required for the product. It also swells in saltwater.
STANDARD SIZES
05 mm x 20 mm 20 metres roll 140 metres in the box
10 mm x 20 mm 10 metres roll 70 metres in the box
20 mm x 25 mm 5 metres roll 25 metres in the box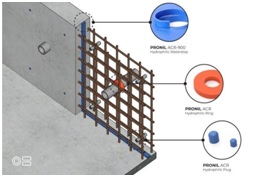 PRONIL PROSEAL - Joint Sealing System
PRONIL PROSEAL is a high performance joint and crack sealing system for construction joints, expansion (movement) joints and connection joints or cracks. It is a thin flexible sealing tape with extra-tough elastic strip providing considerable longitudinal and lateral extension.  It is non-hazardous for users and provides long term resistance against bacterization.
It is ideal for sealing and waterproofing expansion joints and over cracks subject to irregular and high movements. The product offers excellent resistance to weathering, UV radiation and is chemically stable.  It is very easy to install. The use of thermal welding with the PROSEAL ensures secure and watertight joints.
It can be applied to - Construction joints and cracks, Basements, Tunnel construction, Around metal surfaces, Swimming pools, Cable and pipe penetrations and Sewage treatment plants.