Garware Technical Fibres Ltd. (Formerly Garware-Wall Ropes Ltd.) is one of India's leading players in the technical textiles sector. Established in 1976, the company today is a multi-divisional, multi-geographical technical textiles company and is known for providing world class innovative solutions in high performance aquaculture cage nets, fishing nets, sports nets, safety nets, agricultural nets, coated fabrics, polymer ropes and geosynthetics. Our operations are backed by two manufacturing units at Pune and Wai, in western Maharashtra, and a responsive sales network spread across India and overseas. Testimony to our quality products comes from the fact that about 50% of our production is exported to more than 75 countries.
Geosynthetics Division
With a vision for growth and sound technical expertise in polymers, Garware Technical Fibres Ltd. diversified in the field in geosynthetics in the year 1998. We offer products and services in the field of civil engineering & infrastructure development. We have a team of highly qualified and fully competent civil, geotechnical, transportation and environmental engineers to undertake design and detailed engineering for a wide range of applications. We use internationally accepted software like Slide 2D, Rocdata, Swedge, Dips, Geo5, Talren, MSEW, ReSSA, Reslope, GeoCoPS, FoSSA, etc. to design solutions in area like roads, railways, environmental and waste management, coastal and water front structures, etc. Our team of qualified experienced project managers, engineers, technicians and supervisors have been successfully implementing turnkey projects involving geosynthetics/geoenvironmental solutions with utmost efficiency and quality. We offer our customers several unique benefits: quality products at competitive prices and timely deliveries; excellent technical support in the form of detailed designs, drawings, guidance and supervision of installation; and Turnkey execution of projects in selected applications.
Services delivered include
Problem analysis
Propose appropriate solutions
Design & consultancy services
Product supply
Technical support, supervision & installation guidance
Turnkey implementation
Our areas of expertise
Rockfall protection & mitigation system
Surface erosion control on embankments and cuttings
Landfill engineering system
Railway trackbed stabilization
Gabion retaining wall
Reinforced soil structure
Ground improvement
River and coastal protection work
Pavement
Geosynthetics lining of reservoir and canal
Anti-buoyancy bags for underground pipeline
Some of our Ongoing and Completed projects
Project 1
Project Name: ROCKFALL PROTECTION WORKS AT NALUPANI LANDSLIDE (EX. KM. 123+080 TO KM. 123.480, KM. 123+665 TO KM. 123+740 & 123+770 TO 123+970 SECTIONS OF NH-34 IN THE STATE OF UTTARAKHAND
Client: NHIDCL Limited
Project 2
Project Name: Rock fall protection by wire netting, Slope stabilization and other ancillary works between km 148.100 to 150.520 & 151.600 to 158.312 in cutting in new B.G. Rail line of Barkakana Ranchi section under Dy. CE/Con/Barkakana
Client: East Central Railway
Project 3
Project Name: WDFC, L & T Railway CTP 1 & 2 project at Renwal, Rajastan
Client: L & T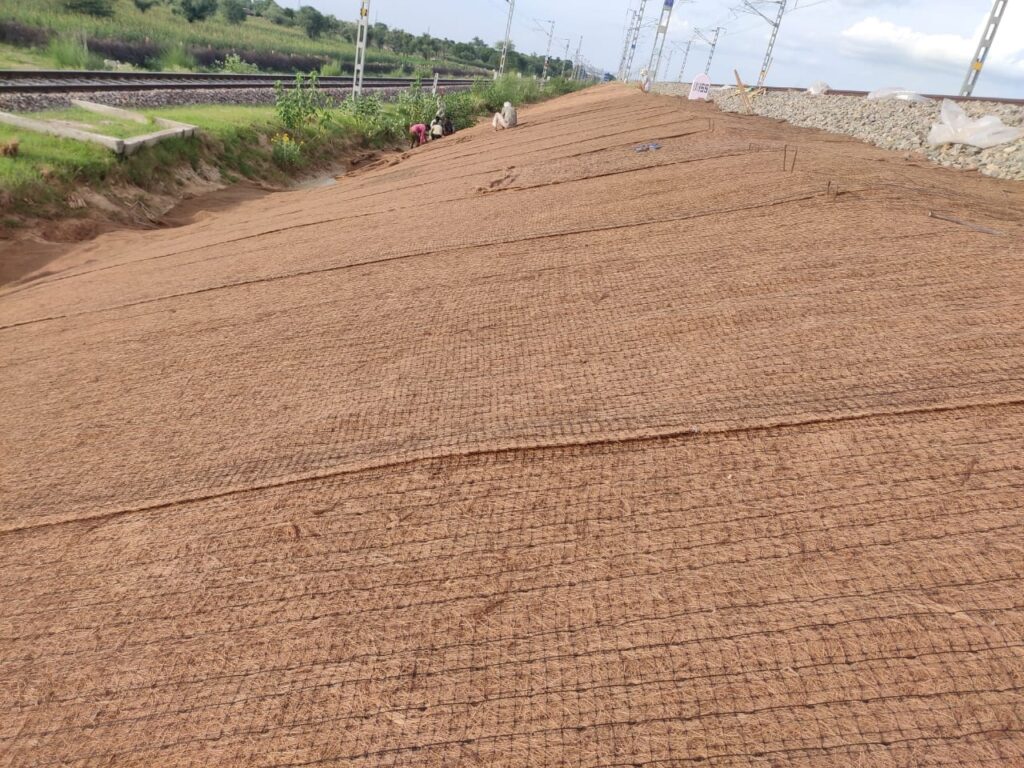 Project 4
Project Name: Dewatering project in Europe
Application: Sludge Dewatering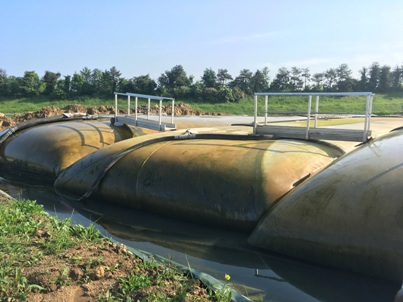 Project 5
Project Name: River bank protection using polymer gabions at RIL, Hazira
Application area: Coastal and River Protection works
Project 6
Project Name: Geosynthetics Lining of the Gypsum Stack
Client: IFFCO-Odisha